We have over 40 kids fishing videos for you to watch and learn how to catch more fish (and have fun while you're doing it). That's waaay too many videos to post here, so we'll rotate some of our top videos on this webpage for you to sample. If you'd like to explore all 40 videos, simply click on this link to the Into the Outdoors – Aquatic & Angling Science page where you'll discover hours of angling adventures and advice. And be sure to share these half-hour fishing shows with your entire family to help make everybody's… Mission, to Go Fishin'.

See what happens when two kids get a summer school assignment to fishing because they were messing with their cell phones in class. (You don't do that, right?) Watch above as they make lasting discoveries about family, friends, fishing and the elements of a memorable angling adventure.
See what happens above when kids on vacation in Florida aren't having all the family fun they bargained for. What first appears as yet another failure at trying to have fun in the Sunshine State, quickly turns into a combination of aquatic science education and downright excitement catching new species of fish.
Most kids soon discover that fish don't bite all day long, even in their favorite places. So what can you do when everyone else on the lake is out there having fun and the fish aren't biting? Watch above and see what fun awaits you when you combine fishing adventure with boating fun.
Isn't it ironic that one of the best-eating freshwater fish also happens to be one of the more mysterious species that can be hard to catch. As our two teen anglers discover above, catching elusive walleyes requires and combination of understanding aquatic science, modern electronics, navigation, ingenuity, and angling persistence.
Now we can't encourage you to go fishing out in a boat IF we didn't also encourage you to become a safe-n-smart angler by learning some lifesaving tips on boating safety. So watch this video above and share in the discovery of simple yet smart preparation and decisions that could save your life. Remember, the most successful fishing adventures are the ones where you return safely to share your fishing stories with friends and family. The smartest thing you can do before your next fishing trip is to link below to get certified in boater ed.
Every time you think about fishing, you should also think about fishing and boating safely. One of the surest ways to be safe on or around the water is by wearing the right PFD (personal flotation device)… also known as a life jacket. Learn more by watching this video from our friends at Boat-Ed.com and UntamedScience.com.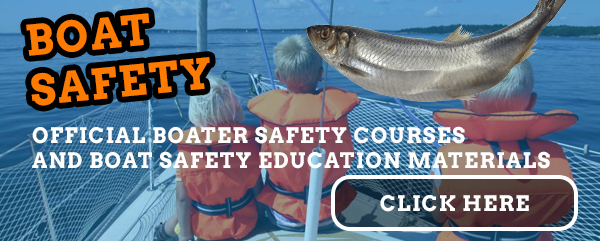 Official Boater Safety Courses
and Boat Safety Education Materials